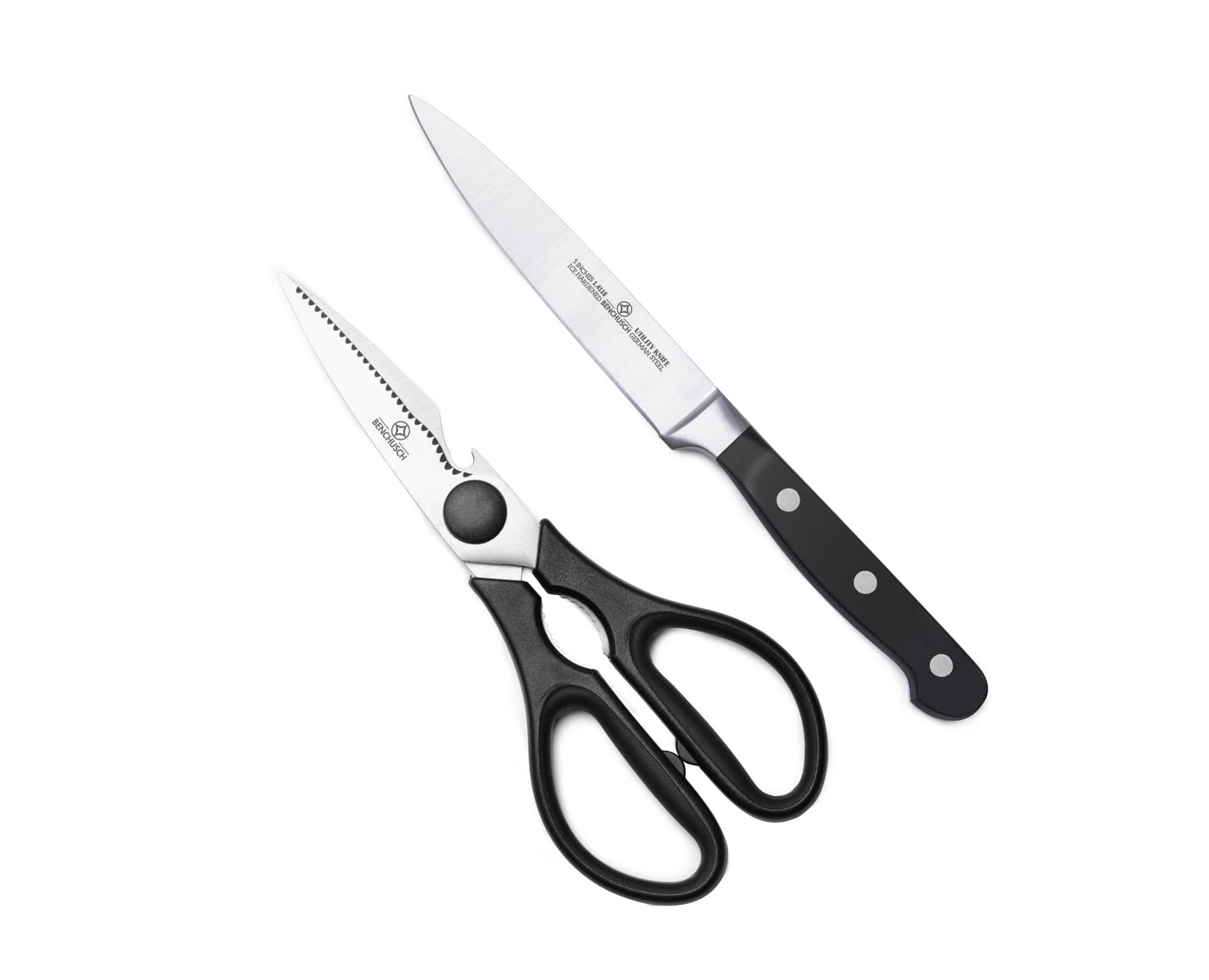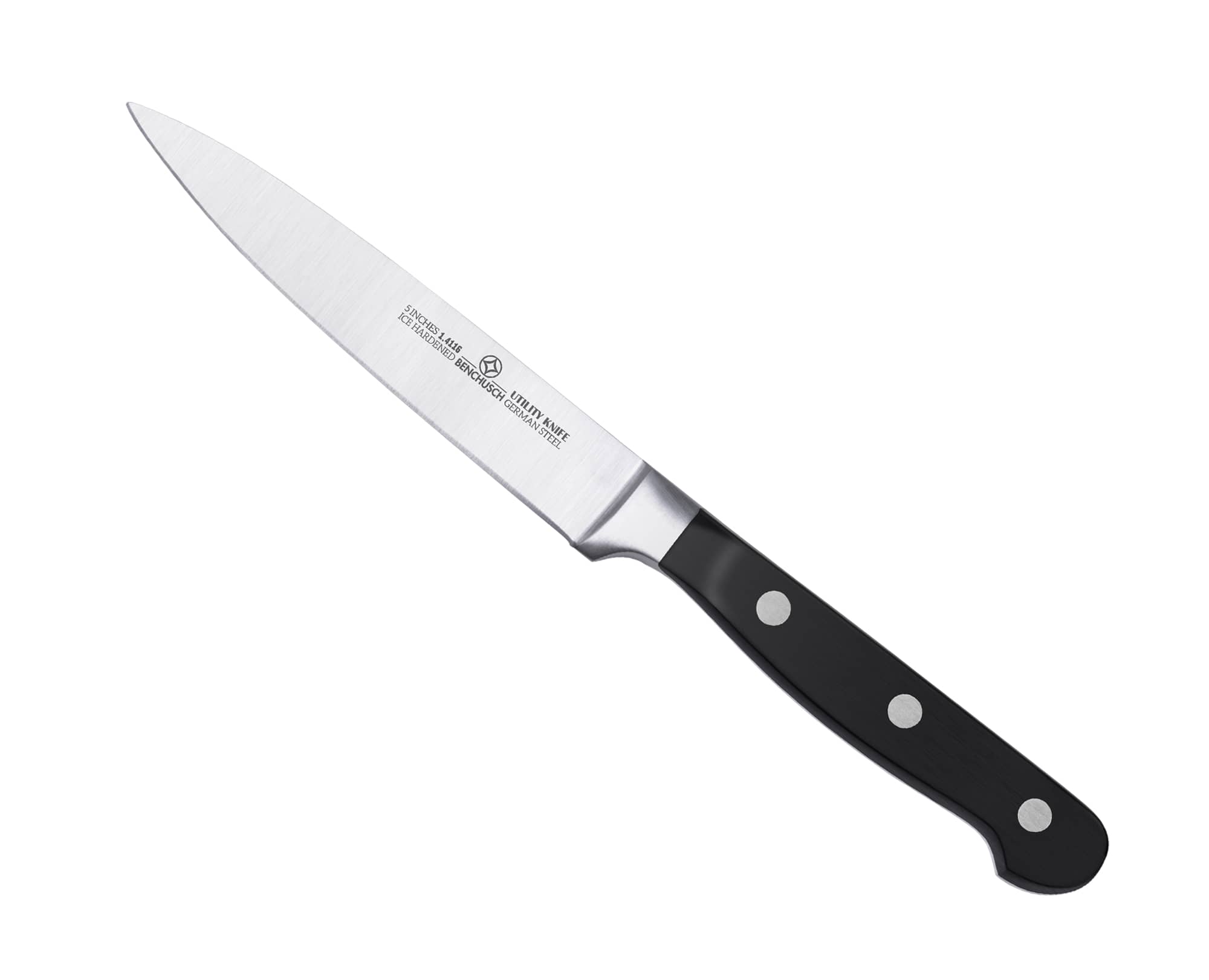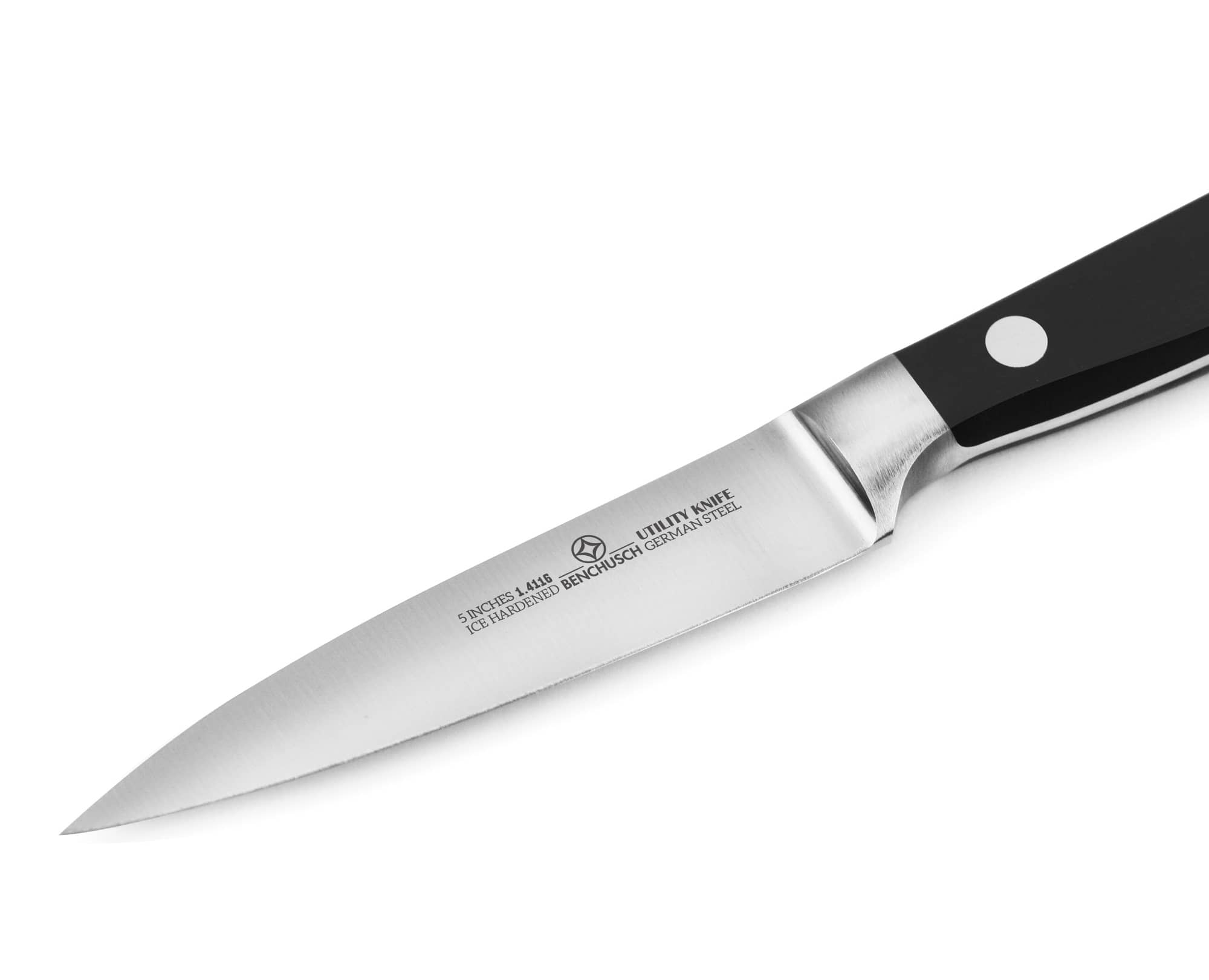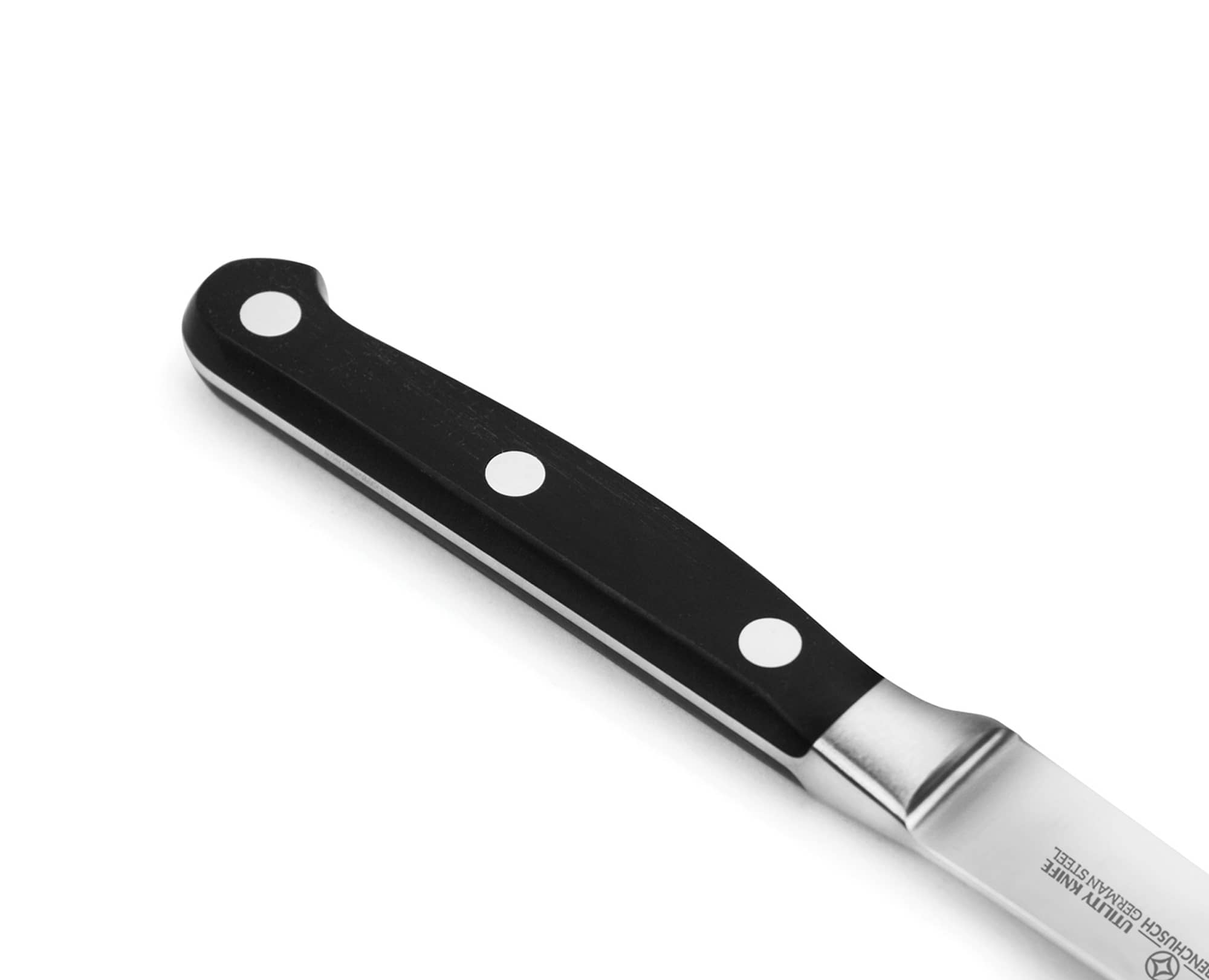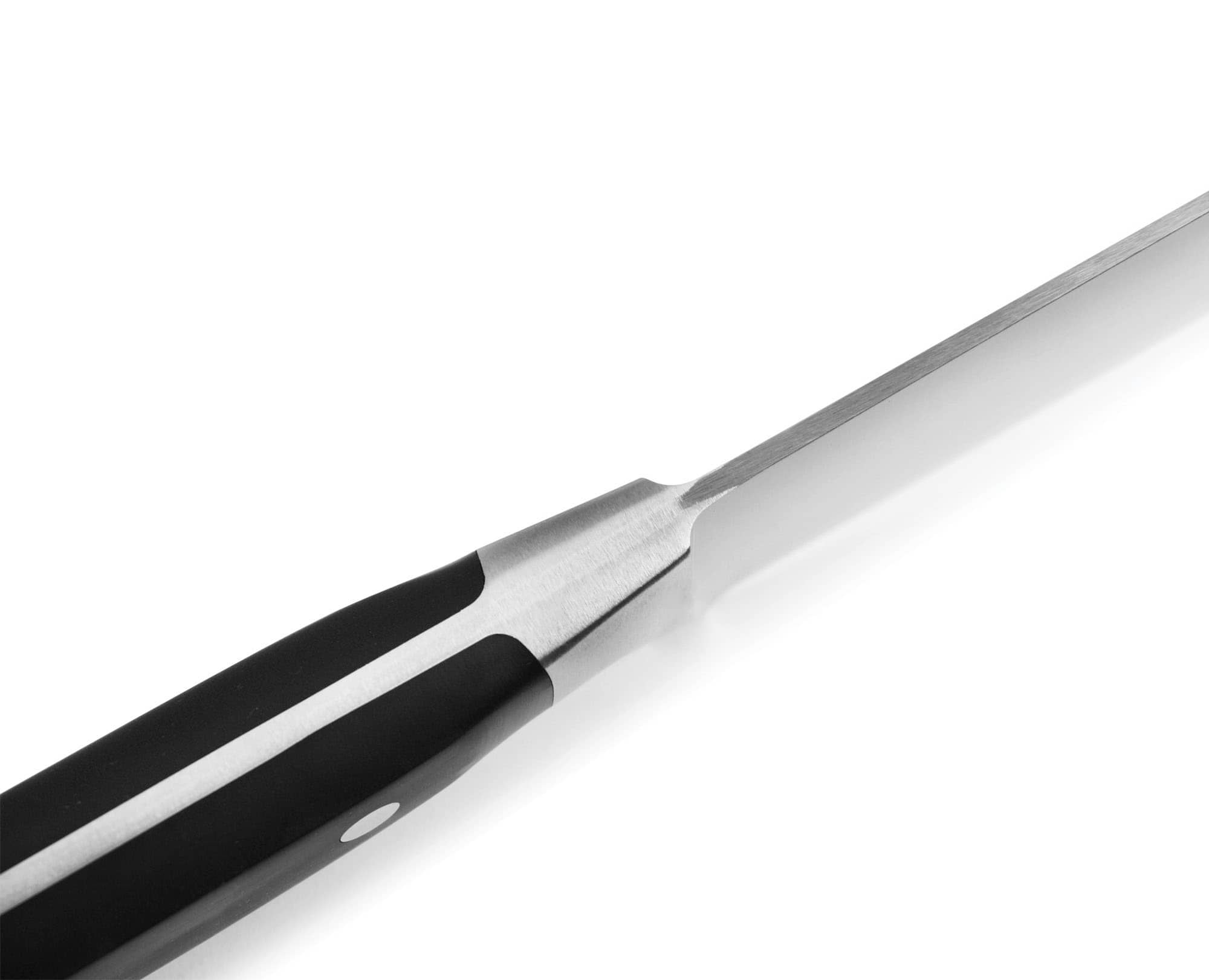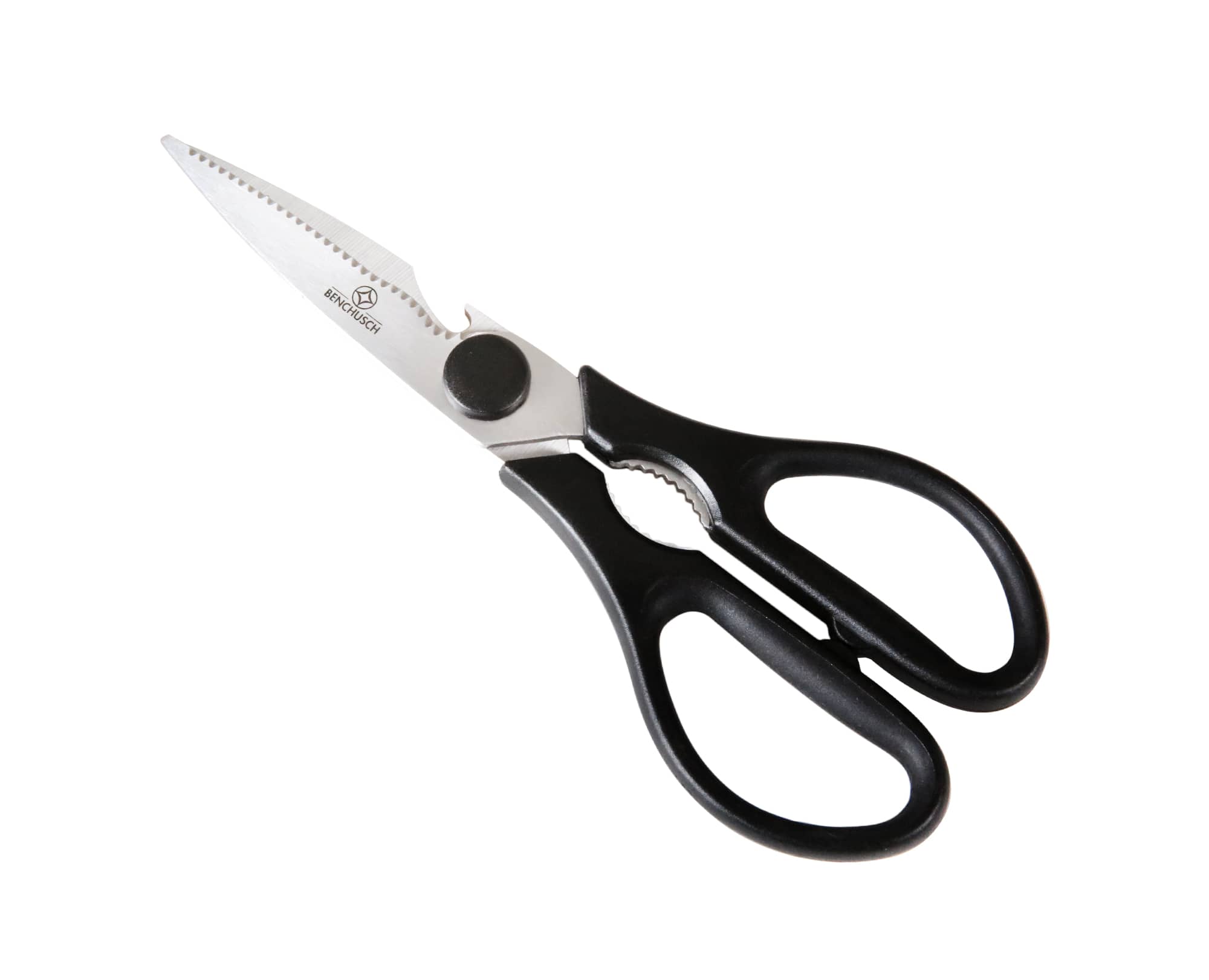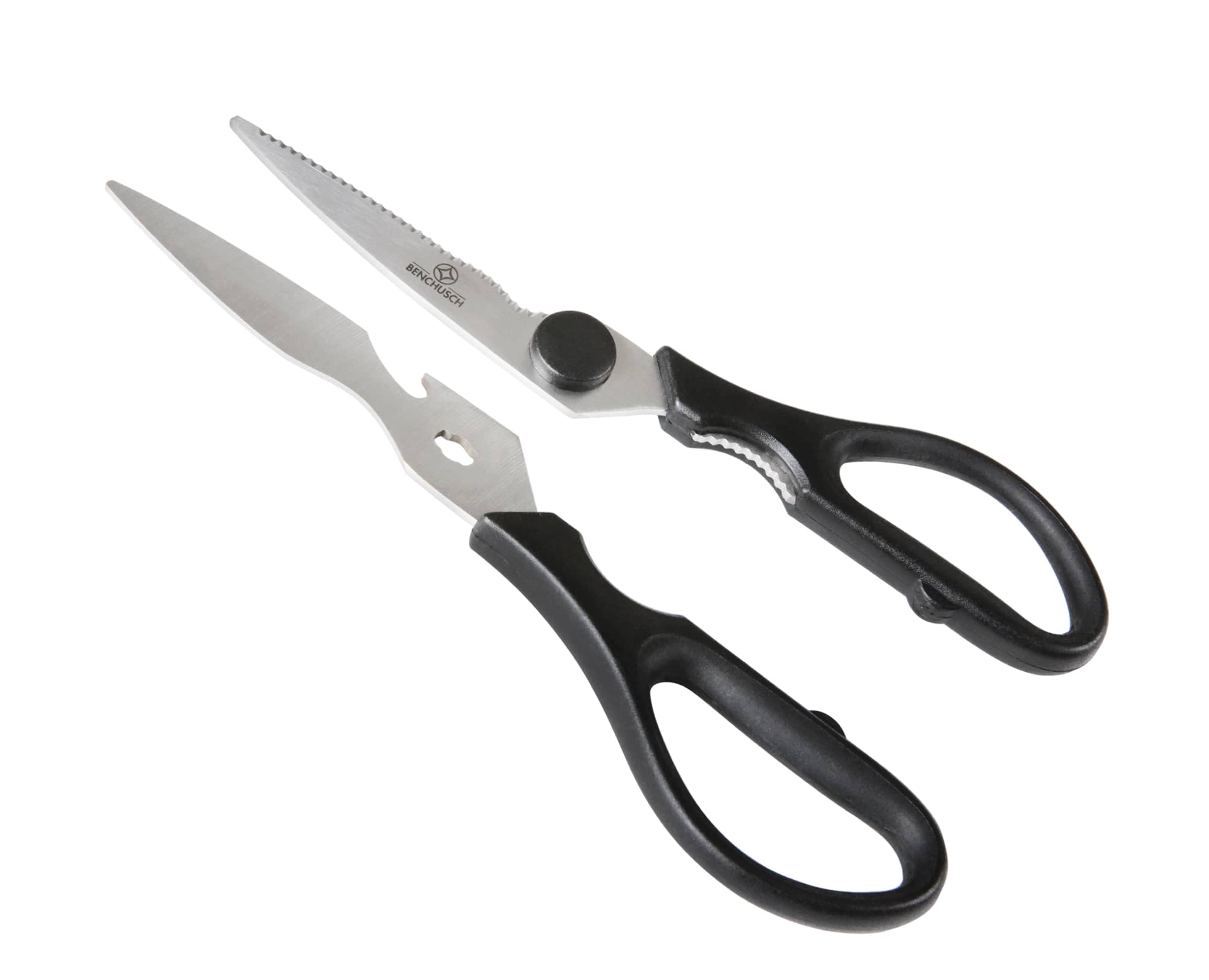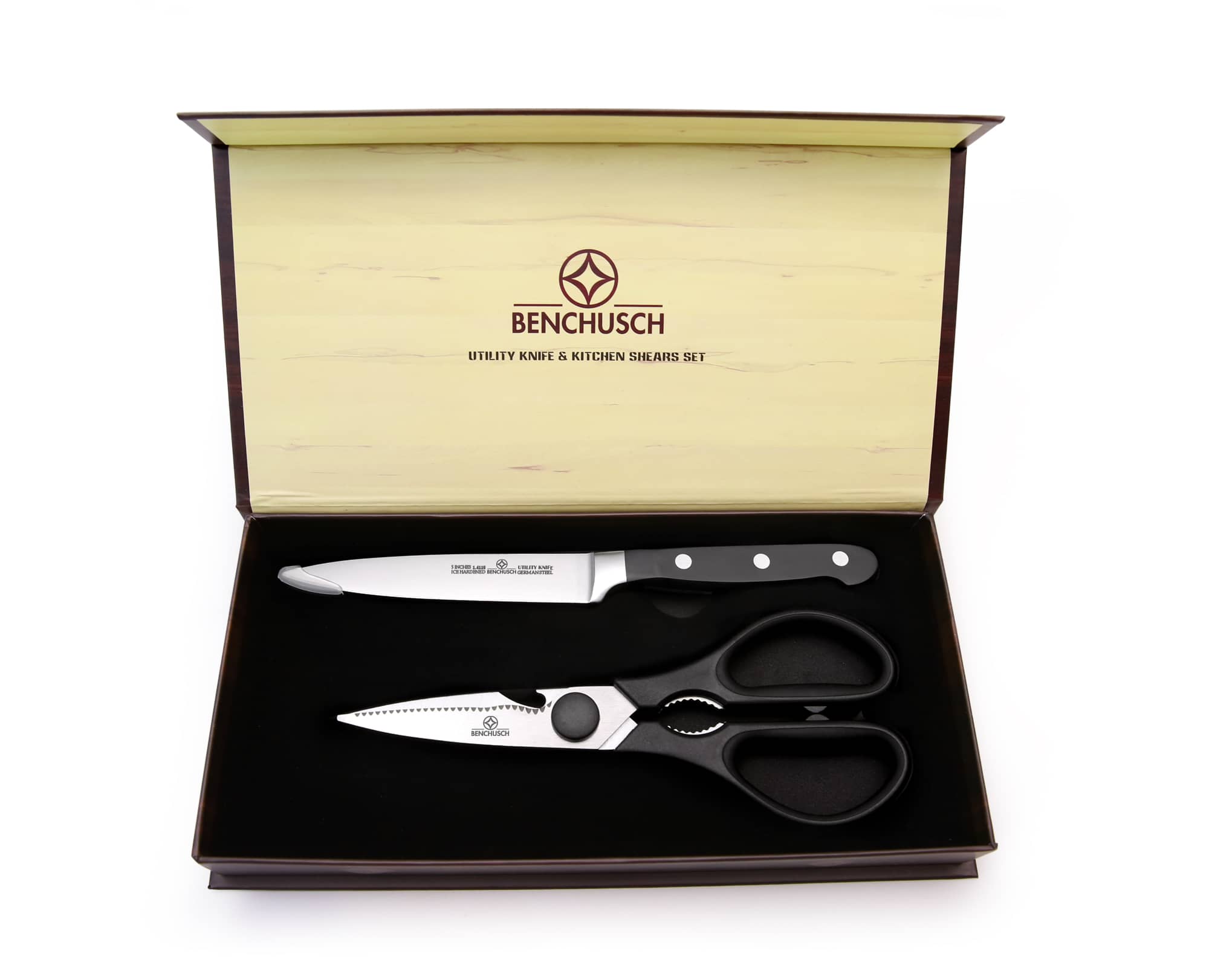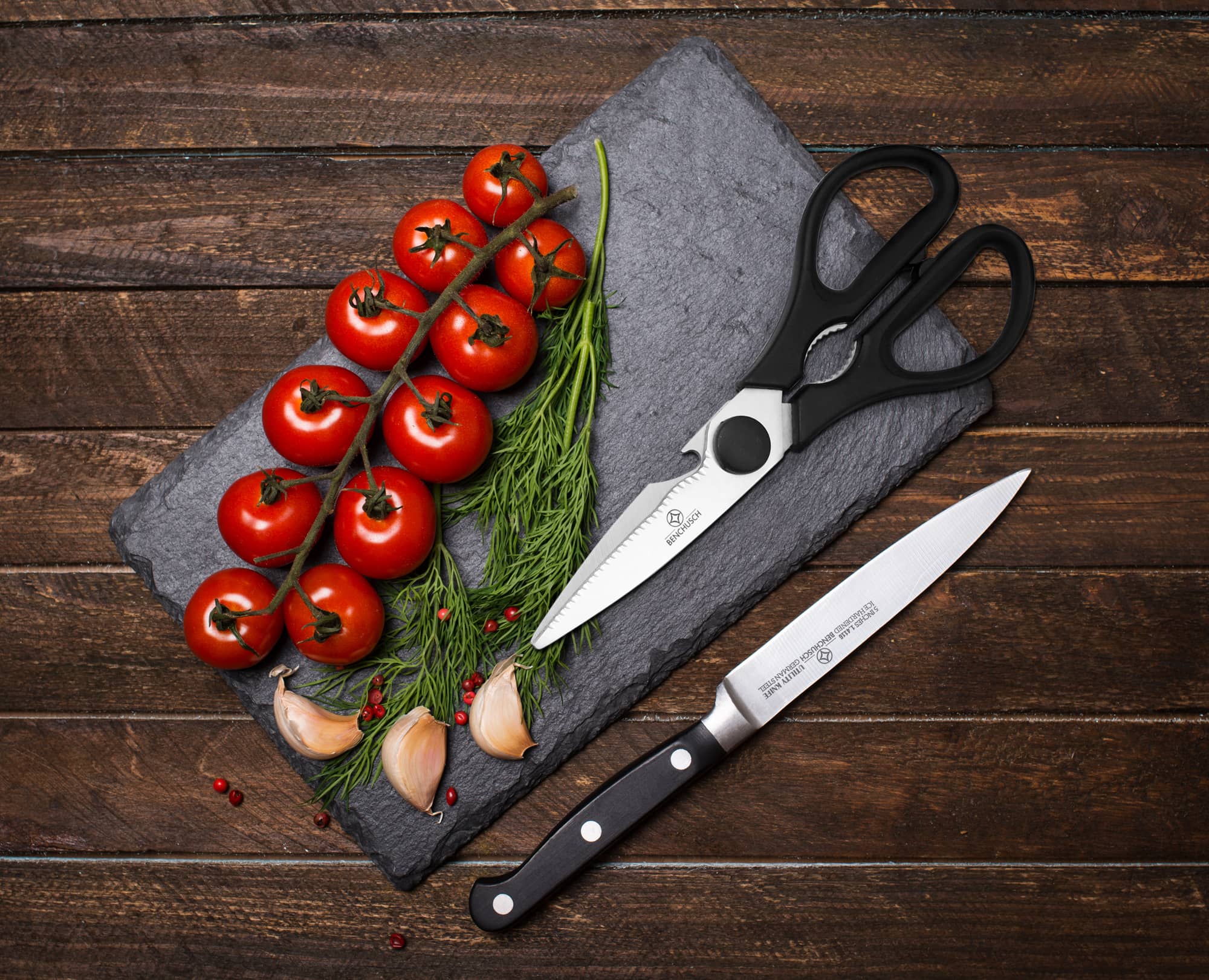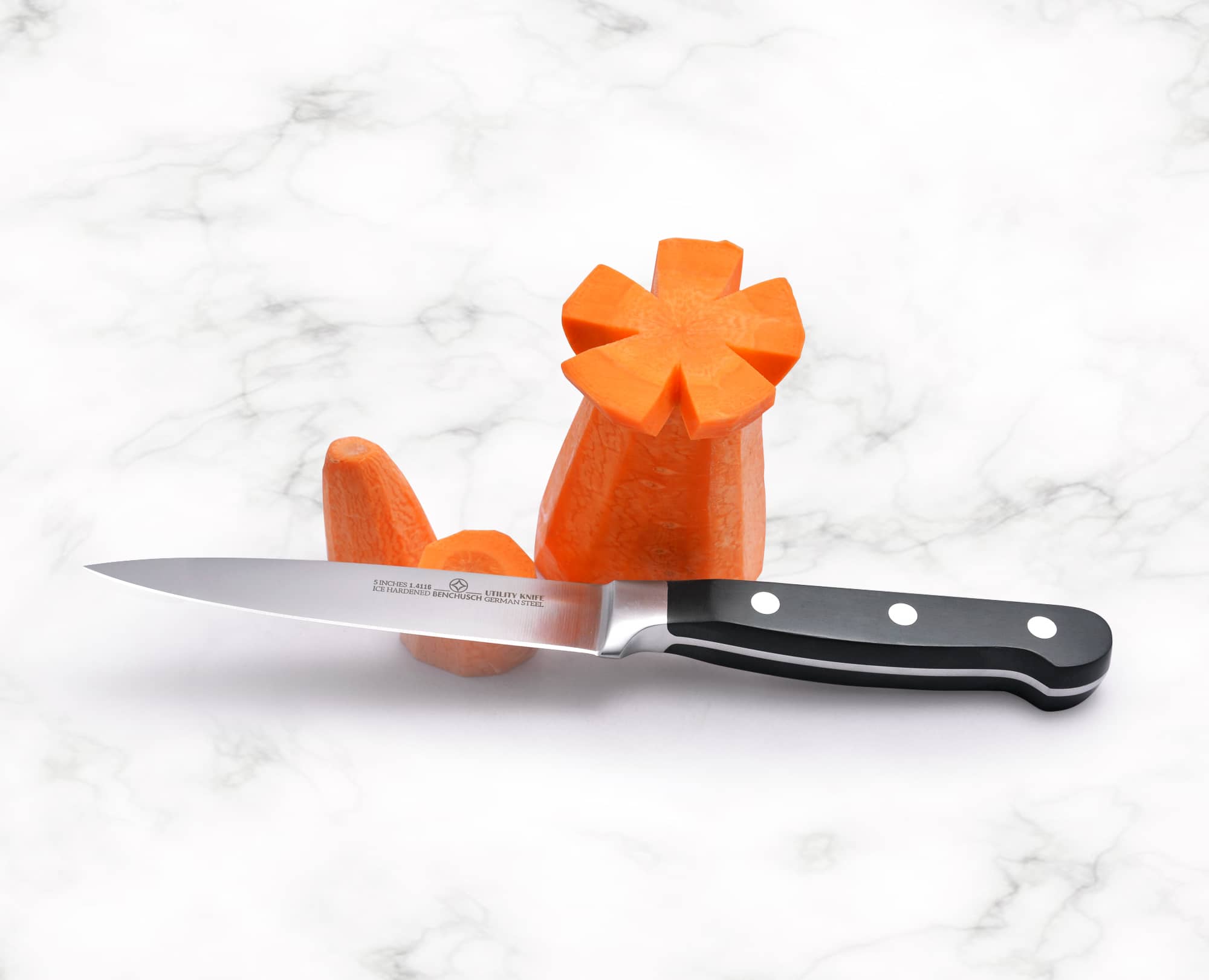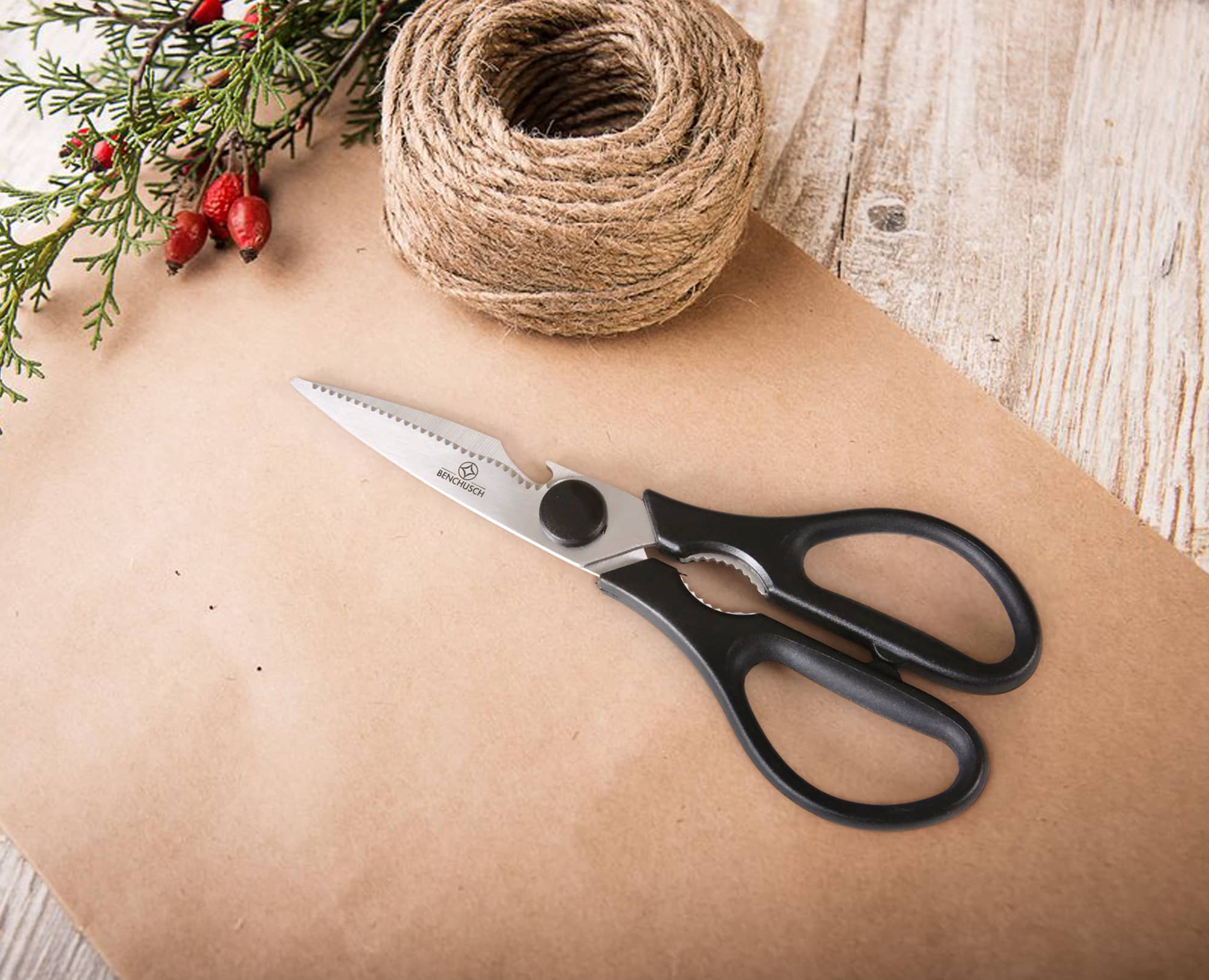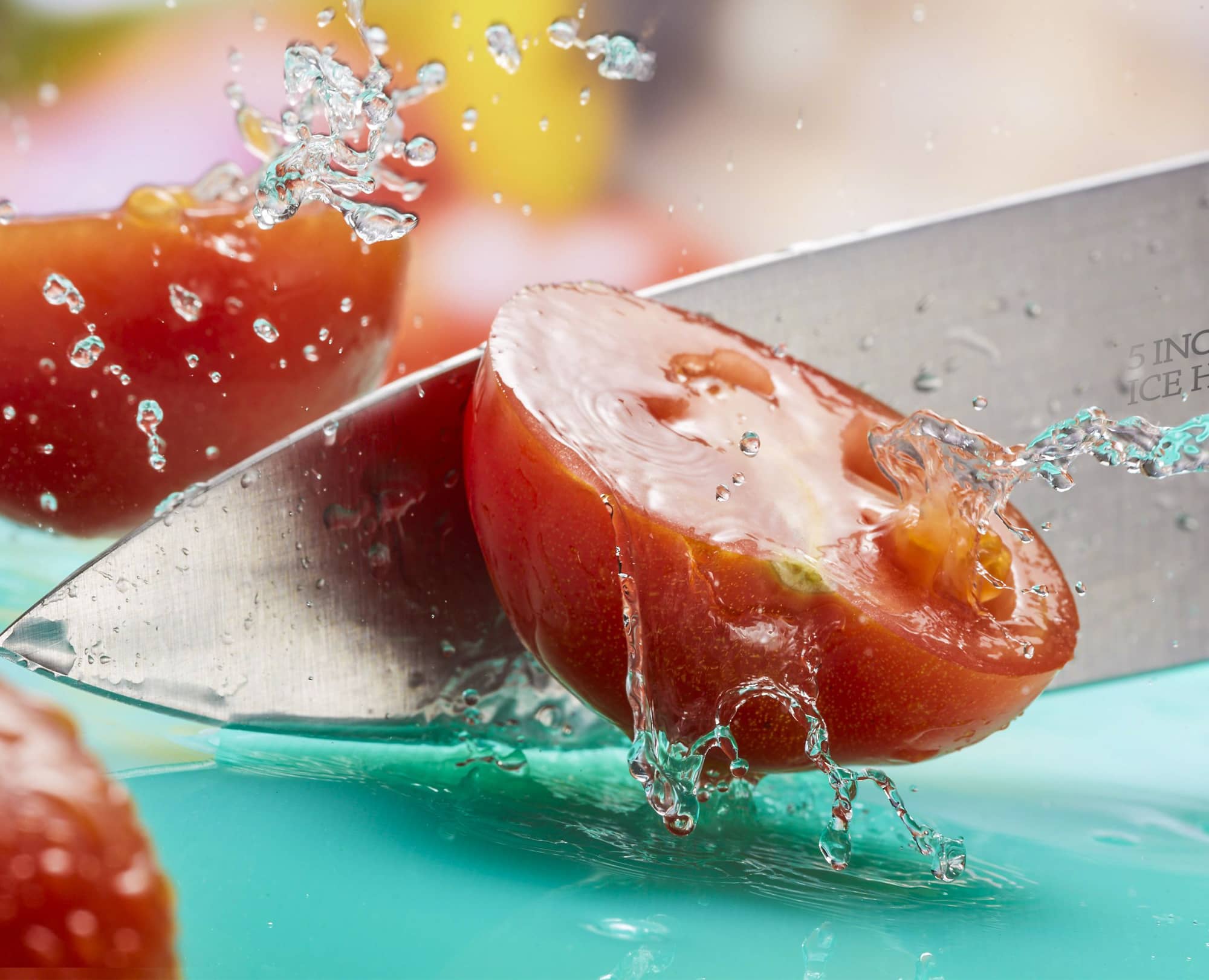 Classic 5-inch Utility Knife and 8-Inch Scissors
Each of Professional Chefs always wants to own the good knife, because it is not only made a success for the chef but also be a best friend at their side. That thing has motivated us to develop our line of Classic Series Knives. Forged from high-carbon German steel and the full-tang blade gives sharpness, strength, balance, and superior edge retention to ensure quality & reliability for many years. In addition, the ABS handle and full bolster support your hand, offer durability, stability and counter-balance so you can cut smoothly & accurately through your foods easily & effortlessly.
 • The Benchusch 5-inch Utility Knife is perfect for slicing a tomato or an apple, removing seeds from a pepper, trimming a piece of meat quickly and efficiently.

 • Multi-function Come-Apart Shears is equipped with a sharp cutting blade for heavy-duty and effortless cutting, scaling & peeling. In addition, you can use this shears to open bottles, remove caps or crack shells, walnuts and many more suitable size hard martial fruits.
IDEA COMBINATION BETWEEN CLASSIC STYLE AND MORDEN TECHNOLOGY: this admirable set include 5-inch Utility Knife and 8-inch Multifunction Kitchen Shears which have traditional design so they seem to be familiar with your daily kitchen jobs; Inside the classical style is the power of premium material and morden technology – make them more strength, durable & never rust by time

UTILITY KNIFE WITH PRO-QUALITY BLADE: Crafted with professional German stainless steel, the superior sharp blade works great for miscellaneous cutting jobs like slicing tomatoes, splitting peppers, or even cutting meat. This handcrafted blade is produced based on ICE HARDENED treatment and beveled carefully on both sides – will make the knife more durable, increase cutting efficiency and also retain its sharpness for many years without the need of re-sharpening

MULTIFUNCTION SCISSORS WITH COME-APART DESIGN: equipped with razor-sharp blade for heavy-duty and effortless cutting; serrated sections in comfortable grips for opening tough-sealed bottles; ideal for scaling, peeling, removing caps or even cracking shells; the unique design allow them to come apart for your convenient cleanup

ELEGANT GIFT BOX: this convenient set comes with a premium packaging which is really an ideal gift for housewarming, anniversaries, wedding…or even for yourself
► Includes: 
1* 5-inch Utility Knife

1* 8-inch Kitchen Shears

 Elegant Gift Box
It's perfect for slicing tomato or an apple, removing seeds from a pepper, trimming a piece of meat quickly and efficiently.
Do not use a knife to cut hard objects such as bones.
• Hand washing is recommended to keep your knife is always sharpness.
• Cleaning your knife with warm water & soap. After washing, wipe dry with the soft towel.
• Do cleaning every time after using.
• Keep away from children.
Dishwasher Safe
{{ reviewsTotal }}
Review
{{ reviewsTotal }}
Reviews